Welcome to Sandbeck Stud
Welcome and thank you for visiting our website, we are very proud of our Miniature stud and specialising in Shetland ponies, Falabella horses and American Miniature horses and welcome anybody that wishes to visit.
Our foundation stock was mostly small but based on the very best breeding with good strong bone, good conformation and temperaments, the Shetland ponies are registered with the Shetland Pony Stud-book Society and in 2013 we took delivery of our first ever Falabella horses. Later in 2014 the American Miniature horses joined the farm.
We spent all the money that we could afford then and since to ensure that our breeding program progressed quickly and successfully. This included purchasing the son of the most famous miniature Shetland pony in the world Romany Paco called Bulkgwyn Toby from the owners of Romany Paco, Toby has served us very well over the years and we are now breeding with many of his off spring in addition to the very best pure bred Falabella horses with bloodlines from the Falabella stud.
Romany Paco is still the only miniature Shetland pony that has been a World Champion miniature, a European champion three times and a British Champion at the annual breed show, there has still never to date been any other miniature Shetland pony or other miniature horse that has done so well in the show ring. Many of Romany Paco's offspring are now winning championships around the UK and Europe and we now see many of Sandbeck ponies doing the same which is such a joy and heart-warming to hear about.
We have since added to our stallions with many other stud bloodlines and they include Edern, Hermits & Merrylees to mention a few, we also see our own Sandbeck stock becoming great stallions and many who are homozygous for the tobiano gene, so will always have coloured foals even to plain coloured mares.
In 2013 we have introduced two new Falabella Stallions and two young colts, who we are hoping will be our future Falabella Stallions, we get very excited about the foals arriving each year and have many sleepless nights from April to June time.
We feel very privileged to have bred these beautiful miniature ponies and horses for many years now and find ourselves as one of the leading suppliers all over the world, exporting ponies as far as China, Cyprus, Abu Dhabi, Finland, Germany and America the list goes on. We provide to many different customers from pet homes to local authorities across the country for their public parks, we have over 100 ponies and horses at any given time at our farm and the hardest problem people have is choice as we have so many beautiful ponies and horses.
All our Ponies & Horses leave with a new head collar and lead rope, they are all wormed to date and will have their feet trimmed before leaving. In addition to their passport they will also leave with a treatment record for the past 12 months, indicating when they were wormed and what with including, feet trimming, denistry and veterinary care. we also deliver WORLDWIDE.
We hope you like our website and that you get what you need from it, please don't forget to visit all our pages if you are interested in purchasing one of our beautiful miniatures. Many thanks once again.
Darren & Family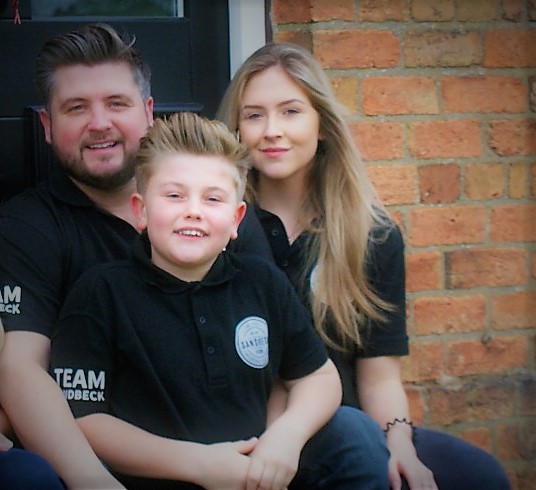 "We recently brought two ponies from sand beck farm, originally only went for one but couldn't resist getting mother and baby, the foals are too cute not to take home as well. Brilliant and friendly family who are experienced and affectionate about all their ponies with lots of advice. We will defiantly recommend them to anyone who is thinking of buying a pony and we will defiantly return in the future if we want to grow our little family off Shetlands." Jamie Howes
"We purchased our first Shetland Mickey and can honesty say what a brilliant experience. Such a friendly and helpful people. They also offered help and advice if needed ay anytime. What a fantasic set up Sandbeck Farm is and would recommend 100% Thank you." CARON MEAKIN
"We purchased our lovely leonardo from Sandbank Farm and couldn't be more happy with him. During the months leading up to him being fully weaned we where made to feel welcome to visit Leo and enjoyed doing so on many occasions, It has been a treat to be able to visit the farm and be surrounded by so many beautiful foals. Darren and Family have clearly put a lot of time and heart into what they do ensuring that the Sjetlands needs come first giving valuable advice. We now have Leo home but have the comfort knowing they are only a phone call away and they have a genuine interest in how their foals are progressing. 100% recommend "REBECCA CLARICOATES
What can I say, from the moment we made contact to the day you delivered our special boy your service has been first class. so helpful and honest about all your beautiful ponies and Falabellas. you can really appreciate the hard work you put into all the ponies you have. such a professional set up and they all look so amazing its so difficult to decide which one to go for, we just know we will be back for another one later. Thank you so much for Bertie he is amazing and knowing you are always on the end of the phone gives us so much reassurance that you care. All the very best with love Sam, Danny, Gracie and Bertie :)SAMANTHA GABRIEL
© 2023 Sandbeck Stud